Quick Look
When: June 5, 2023 – December 31, 2023
What: Receive a $50 gift card for every qualified opportunity and a bonus for every closed-won deal.
Who: Sales personnel
What is the Partner Qualified Opportunity Meeting Incentive Program?
Gurucul Partner sales personnel can earn a $50 Gift Card for each qualified opportunity meeting that takes place between a prospect and Gurucul between June 5 and December 31, 2023. Offer only open to active current, authorized partners in India. The meeting participant must be a non-Gurucul customer to qualify for the program. In addition, if the opportunity results in a closed-won deal, you will receive the following bonus:
Gurucul Incentive Program Guidelines.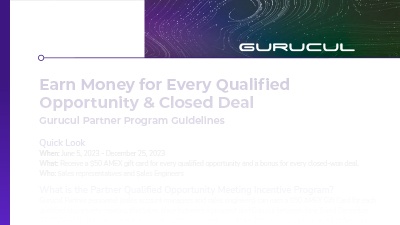 | Deal Size (USD) in Annual ARR | Account Manager Incentive(USD) | SE Incentive (USD) |
| --- | --- | --- |
| 25K-50K | $75 | $75 |
| 50K-100K | $150 | $150 |
| 100K-250K | $200 | $200 |
| >250K | $500 | $500 |
What to Look For
Customers whose current SIEM:
Unable to scale to Cloud, On-Prem, or On-Prem/Cloud requirement Has unpredictable, escalating data ingestion costs
Does not support log / data ingestion of critical solution Produces high false positives
Limited in data it's handing, which reduces visibility Doesn't help SOC find and respond to threats fast enough
Provides little to no context about alerts and actionable intelligence
Overburdened SOC team and/or lack of resources to manage security alerts
Visibility into rules used to determine threat thresholds
Get Started
Talk to your customers and prospects to see if they have a requirement and would accept a meeting to discuss how Gurucul can improve security posture.
Register your meeting request using the form below.
Coordinate with your Gurucul channel sales director to schedule the first meeting.