UEBA Use Cases Whitepaper
You Can Steal an Identity, But You Can't Steal Behaviour.
Cybercriminals may compromise your credentials, but they cannot mimic your behaviour. Gurucul User and Entity Behaviour Analytics (UEBA) detects and mitigates threats that otherwise appear as 'normal' activity to traditional security technologies. Discover attacks much more quickly despite the extensive use of dwell time, and quantify how risky those behaviours are with true behavioural-based modeling. Predict, detect, and stop insider threats, account compromise, privileged access abuse, data exfiltration and more.

Detect threats immediately upon deployment with 1500+ out of the box, pre-packaged behaviour-based machine learning models
Find unknown unknowns using Behaviour Analytics by building behaviour baselines – the most effective way to find sophisticated threats
Build dynamic peer groups and their behaviour profiles
Identify anomalous behaviours by comparing a user or entity's actual behaviour with their normal behaviour baseline and peer group behaviour baselines
Combine activity with access data to detect unusual changes in behaviour patterns – critical for detecting emerging threats and malware variants
Integrate sensitive HR data
Investigate contextual alerts with unified User/Entity timeline views
Leverage Case Management Workflows, Encryption, Masking, and Role Based Access Controls
Experience our unique "Flexible Entity Model" (think IoT)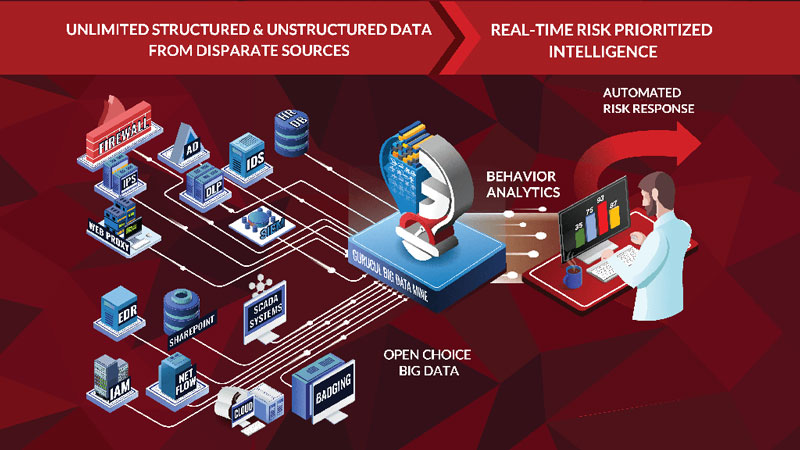 Infosys Customer Testimonial: Real-time Threat Detection with Gurucul UEBA