The Gurucul Unified Security and Risk Analytics platform ingests and analyzes massive amounts of data on user/entity behaviors from virtually any data source, including the network, IT systems, cloud platforms, applications, IoT, social media, etc. The platform applies identity-centric, model-driven data science, machine learning, anomaly detection and predictive risk-scoring algorithms to identify not just anomalous behaviour, but risk-scored activity indicative of security threats and fraud attempts. It's accuracy and real-time alerting saves security analyst time and allows organizations to stop potential damage before it occurs.
Unified Platform: One central platform for end to end security operations including data aggregation, analytics, investigation, governance and incident response
Machine Learning Behavior Analytics: Identify anomalies using behavior and context; pre-packaged ML models for most popular use cases and industries
Risk Scoring: Aggregate, correlate, link security and identity data feeds into one unified risk score – risk prioritized intelligence
Access + Activity: Combine access and activity context to deliver true positives
Automation: Automate front line security controls in real-time.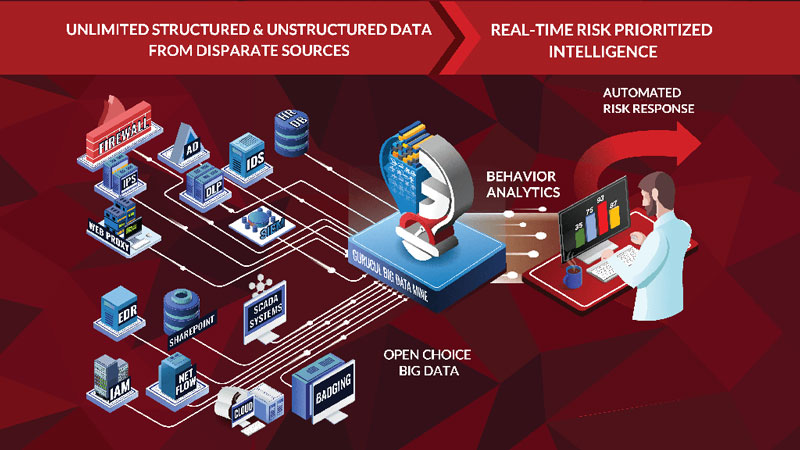 Gurucul's platform spans on-premise, cloud, mobile and IoT to provide identity-centric (user/entity) 360-degree visibility into threats and ingests virtually any dataset (structured/unstructured). It allows organizations to easily customize ML models or build their own without having to write code. Gurucul also provides a centralized analytics platform and SDKs for data scientists to build/import their own custom models. Gurucul's Self-Audit mechanism empowers users to report suspicious access, fraud and activity on their own accounts.
'' This product scales, meets clients needs and eliminates time and cost associated with data duplication, which is a problem for many. It's a good UEBA solution with flexible deployment options, 2000+ pre-packaged ML models and pre-tuned industry specific versions, with good customer testimonials. Good product dealing with big data and good pricing structure.  ''
– SC Awards Europe Judges
Gurucul is a global cyber security and fraud analytics company that is changing the way organizations protect their most valuable assets, data and information from insider and external threats both on-premises and in the cloud. Gurucul's real-time Unified Security and Risk Analytics Platform combines machine learning behavior profiling with predictive risk-scoring algorithms to predict, prevent and detect breaches. Gurucul technology is used by Global 1000 companies and government agencies to fight cyber fraud, IP theft, insider threat and account compromise as well as for log aggregation, compliance and risk based security orchestration and automation.