Generative Artificial Intelligence (AI) was the dominant theme at Black Hat 2023 in Las Vegas. Thirty presentations had AI or Large Language Models (LLM) in the title or description. The keynote by Maria Markstedter, CEO and founder of Azeria Labs, was titled "Guardians of the AI Era: Navigating the Cybersecurity Landscape of Tomorrow." It featured a healthy discussion about the future of generative AI, its impact on the security community and how it's being exploited by threat actors.
The Buzz About Generative AI in Cybersecurity is Very Real
Over the last year, chatter about AI and LLM, fueled by quantum leaps in computing power, has intensified. There is plenty of buzz around the possibilities – both good and bad. Many of the sessions at Black Hat dealt with the need for open and honest dialogue among the cybersecurity community, government, academia, and other disciplines. Much debate is taking place about whether attackers or defenders will be the prime beneficiaries. But one thing is certain, the future of generative AI is here whether we're ready or not.
Enterprises are already taking advantage of generative AI in their cybersecurity programs. It has the potential to revolutionize the way SecOps teams use security platforms, like SIEMs, to leverage massive amounts of data, reduce false positives, and detect and mitigate cyber threats in real-time. AI can be trained to detect patterns and anomalies that may indicate a security breach, even in the absence of a known threat model. When done correctly, AI can accelerate the manual processes of detection, investigation and response and empower security teams to handle the volume and sophistication of advanced attacks.
Gurucul Announces Generative AI Assist Capability
During Black Hat, Gurucul announced a generative AI assistant, Sme AI, that is purpose-built to help security analysts easily gather varied and relevant context that is used for confirming the events and actions leading up to an attack. It can improve their efficiency and help counter common challenges like limited resources, overwhelming alert fatigue, and mis- or unprioritized alerts. Gurucul CEO Saryu Nayyar said, "while attackers are using AI and manipulating common frameworks to build malware, the security community needs to invest and leverage purpose-built AI to fight this battle more effectively."
There is no doubt that Generative AI is emerging as a technology meteor, streaking fast across the collective consciousness of the security community. While there is likely to be skepticism and concern about its future (remember consternation about the cloud in the early 2010's?), there is great potential to use it for good. If the roundup of announcements about Generative AI from Black Hat are an indicator, it seems the next era of AI is already here.
Attend our Webinar to Learn More
Interested in learning more about advanced techniques for threat detection and response? Join us for our upcoming webinar:
Webinar: How Machine Learning is Leveraged for Attack Detection Scenarios
Date/Time: Thursday, August 17 at 11:00am PT
About The Author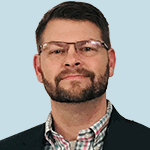 Chris Scheels, VP Product Marketing, Gurucul
Chris has been aligning people, processes and technology to drive companies forward for over 20 years. He has a decade of cybersecurity experience in product marketing and product management. His passion is helping businesses succeed through the strategic use of technology. Most recently he was helping customers accelerate their Zero Trust journey at Appgate, Inc. His background also includes experience in operations, sales, and new business development.