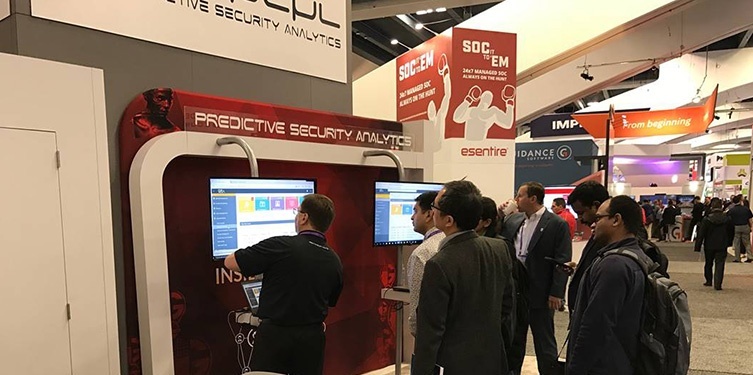 It was a great first evening in the Gurucul booth (#2407 South Hall, Front Row) at the RSA 2017 Conference in San Francisco.  The headliner event was the coming out party for the new book "Borderless Behavior Analytics – Who's Inside? What're They Doing?
Over the course of the opening reception, there were a number of people coming into the booth to receive a complimentary copy.  Opening night RSA festivities also featured numerous complimentary food and libation stations.
Attend our Book Launch at RSA 2017 Conference in San Francisco
The book features a compilation of articles by seven of America's top CISOs and CSOs. They are exploring the evolution of cyber environments. And how identity has become the fulcrum for most of today's more serious attacks and data theft. The book also contains a couple of sneak peeks from individuals in the second edition.
Gurucul has free copies of the new book for RSA 2017 Conference attendees, first come, first serve! So make a point to stop by early in your event plans. The Expo halls will be open 10 AM-6 PM Tuesday and Wednesday, plus Thursday 10 AM – 3 PM.  However, some of the contributors to the book are available on Tuesday from 12 PM – 4 PM to autograph copies. The RSA conference runs February 13th through February 17th.
We also found out Monday that Gurucul was named an award winner for "Best Product in User Behavior Analytics Solutions for 2017" byCyber Defense Magazine!
Even though this is a security event, no black helicopters are circling RSA 2017 Conference. Individuals wearing hoodies is only a small percentage of attendees.
Those not attending RSA can learn more about the book, author and contributors at Borderless Behavior Analytics. You can order a print copy today at https://www.amazon.com/ with the Kindle e-reader version arriving on March 1st.