Dashboards & Reporting
Custom Dashboards Personalize the User Experience
Gurucul Risk Analytics provides management level dashboards out-of-the-box. There are specific dashboards by solution area: fraud analytics, cloud analytics, access analytics, network analytics, etc. There are also dashboards by persona or by job function: SOC Analyst, Network Analyst, DLP Analyst, etc. There is a dashboard for ingestion. On a daily basis, it will tell you how many total data sets were imported, how many data sources, and what were the total number of users during that time frame.
Gurucul also offers users the capability to create custom dashboards. Once a new dashboard is created, users can easily drag and drop widgets onto their custom dashboard in any layout they wish.
Why Custom Dashboards?
There are different kinds of analysts that use Gurucul Risk Analytics. A SOC Analyst is looking at certain systems and particular threat anomalies. A DLP Analyst is interested in DLP-based alerts or findings. A Cloud Analyst is looking at cloud-based alerts. A number of these persona-based dashboards are available out-of-the-box.
But, if you're a SOC analyst or a DLP analyst, there will be specific things that you always want to monitor uniquely. There are certain metrics you have to provide to your management. What are some of the open cases during the current time period? What are the total number of entities?
Personalizing the user experience is the value of custom dashboards. Individual analysts can rearrange widgets, add or remove widgets, and modify out-of-the-box widgets to create custom dashboards. Every time an analyst logs into Gurucul Risk Analytics, he sees exactly (and only) what he wants to see.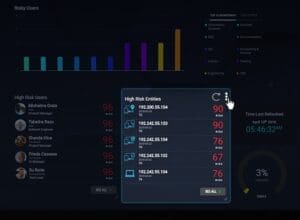 Fill Custom Dashboards with Pre-Built Widgets
Gurucul Risk Analytics offers over 100 widgets which are visual representations of critical security analytics data. Widgets are available for different personas and functions, and for any reportable data element. There are widgets for users that report on: high risk users, account entitlements, activities, rogue accounts, dormant accounts, etc. For entities, there are widgets for high risk assets, high risk entities, active service accounts, active privileged accounts, dormant privileged accounts, etc. For cloud analytics, there are widgets for cloud metering data, bytes in and bytes out, etc.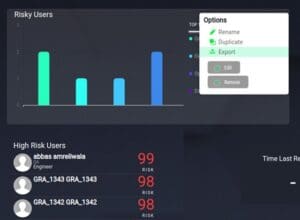 Export Widgets and Dashboards as Reports
You can export widgets, dashboards and the underlying source data to create reports. The dashboard and widget exports create a PDF file of the data presented. If you click on data within a widget, you will drill down to the source information and can export that data into a report as well. You can then send these reports to your management or case investigators for action.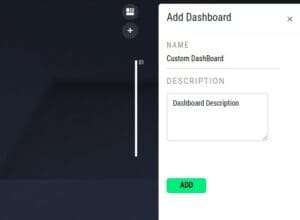 Easily Create Custom Dashboard Widgets
You can rename widgets on dashboards you build to better reflect your organizational goals. More importantly, you can duplicate our widgets and modify the underlying parameters to create custom widgets on the fly. You specify what should be shown on each of the columns to get the exact view of the analytics data you need. You may want to see a user's department name and job title. Or maybe you'd prefer to view the employee type and manager. Simply click on the widget component, select "edit", and choose your column variables from a drop down menu. It's that easy.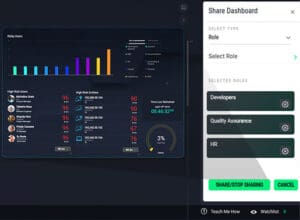 Share Dashboards
Here's a useful feature – you can share your personalized dashboard(s) with others in your organization. You can share your dashboards at the role level (i.e. with other SOC analysts) or at the user level (i.e. with Sue Dale). In this way, you can share a custom dashboard with the entire SOC team in one click. Get everyone on the same page and make onboarding new analysts a breeze.
Teach Me How
Gurucul makes it easy for you to learn how to customize dashboards and widgets. From within the product, you simply click on the "Teach me how" icon, and a visual representation walks you through each step in the personalization process. This online help capability is readily available right when you are trying to leverage a feature of Gurucul Risk Analytics. It's in the product, so you don't have to flip back and forth between the User Guide and the product.
Create Custom Personas
When you first login to Gurucul Risk Analytics, there will be preconfigured job functions: SOC Analyst, Role Manager, Cloud Admin, etc. Once you choose a persona, you can customize your individual view of that persona. So, for example, if you're a SOC Analyst that doesn't need to create custom Machine Learning Models using Gurucul STUDIOTM, you can disable that function from showing in the SOC Analyst view. In Gurucul Risk Analytics, we call this creating custom Tab Profiles.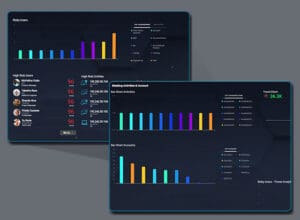 Create Custom Components
You may not want to see all the functionality that the Gurucul Risk Analytics platform has to offer. With this in mind, we have made it easy for you to customize the product scope in order to improve your user experience. You can create as many custom components combinations as you like. This enables you to choose only the product functionality that is relevant for you in your specific role. Once you create your custom components, this will be your user experience in subsequent logins. You can change these components at any time, so as your job role expands, you may want to add additional components.
Why is This Such a Big Deal?
Custom Dashboards are a big deal because they significantly improve the user experience. Who doesn't want personalization? You are much more productive when you can personalize the user experience for your specific needs. And, it's so easy to do.
Our competitors do not have a custom dashboard interface. They have pre-set, pre-configured dashboards that you have to use. If you want to customize anything, you must spend a considerable amount of time configuring each widget, and each custom dashboard you want to leverage. And, each individual must configure his/her own options. It's extremely cumbersome. There is no sharing. There is no quick way to customize the user experience.
Too much dashboarding, on the other hand, is overkill. With over nine years of experience as a Security Analytics provider, Gurucul has learned from our customers what works and what is needed. There are only so many widget variations or dashboard variations that make sense. We have put all that experience into our capability to offer customized widgets and dashboards with minimal configuration. We have carefully selected the color schemes, attributes, data sources, and parameters that are most used by our customer base. Our experience counts towards your success. And, ultimately, it's all about you.