By Jess Hardiman | LADBibible
Royal Mail is currently investigating a series of text scams, following reports of people receiving a message about a supposedly free iPhone 11 Pro.
Many people have shared screenshots of the text messages on social media, with some appearing to have been received from a sender called 'Royal Mail'.
One of the messages in circulation links through to a website bearing the Currys/PC World logo, saying: "There is an item waiting to be confirmed. You took one of the spots on our Currys' XMAS-list."
@RoyalMail received this message and think it's might be a scam or phishing scam pic.twitter.com/YJM0h0eI8B

— John (@johnmax07) December 14, 2019
Is this valid or scam? @RoyalMail @curryspcworld pic.twitter.com/KC9zL26jhV

— Fiona Sciolti (@ScioltiChocs) December 16, 2019
Royal Mail has since said on Twitter that it is 'aware of' the SMS messages being circulated, and assured people that the issue is currently under investigation.
Hi, thanks for raising this with us. We're aware of this SMS and are currently investigating. Further info on known scams and how to report them in future can be found at: https://t.co/00r3L3G7mv Thanks

— Royal Mail Help (@RoyalMailHelp) December 17, 2019
A page on the website explains there are several 'current scams' that the company is aware of, which 'look like they're sent by Royal Mail, but are in fact fraud or phishing scams'.
Two of the text scams listed on the site involve a 'text message saying an item is waiting to be collected by you' referencing a 'Xmas list', along with a 'text message saying a parcel is waiting for delivery' asking people to 'confirm the settlement of 2.99 (GBP) via a link'.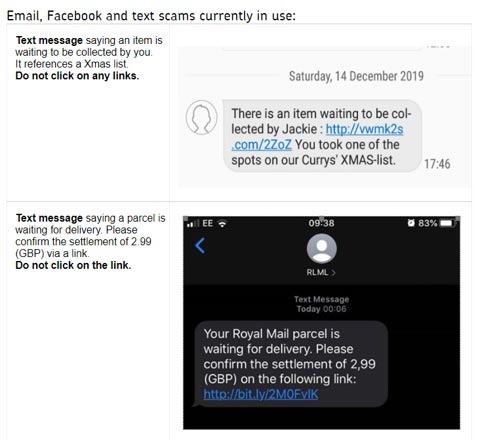 The website warns: "Please don't click on any of the links in these emails and be vigilant if you receive a communication which you aren't sure about."
You can browse a full list of scams identified by Royal Mail, including email scams, here.
Peter Draper, technical director at cyber security firm Gurucul, told The Sun: "This is just another version of a phishing scam but using text instead of email.
"The goal appears to be information gathering and, without a doubt, to obtain people's full payment card details.
"If the recipient provides their card details and CVV, then the bad actor has what they need. They can then use to either spend on the card or, better still, sell the details to multiple bad actors.
"In the worst case scenario the details can be used to steal an identity and apply for credit etc."
A Royal Mail Spokesperson said: "We would remind our customers never to click on any links or offer any personal details if they believe any message may be a scam.
"We will never ask customers to enter information on a page that isn't part of the Royal Mail website.
"If customers receive a suspicious text claiming to be from Royal Mail, they may contact our customer services department on 08457 740 740. They can also find details on how to report their concerns via our website www.royalmail.com. They may also contact Action Fraud on 0300 123 2040 or visit their website and use their online reporting tool."
External Link: Royal Mail Warns Against 'Free iPhone' Text Scams Currently Circulating