Quote of the Month
"It's a nut worth cracking."
– VP Analyst, Market Research Firm

---
The Backstory
We talk to a number of market research firms and meet with a lot of analysts. On this particular day, we met with an analyst who had a colorful vocabulary. We were talking about our Behavior Based Security Analytics platform and where we could make ground-breaking strides. In reviewing some opportunities, he got very excited about a particular strategy and said, "It's a nut worth cracking." We agree.
How Hard is it to Crack a Nut?
Well, it depends on the nut, and the tool you use to crack said nut. In our particular case, we are talking about predicting and detecting cyber threats with security analytics. Some threats are harder to crack than others, and some vendors will have you believe you need multiple analytics tools to make sense of all your disparate data.
Here's the deal: siloed analytics is likely the worst way to crack this nut. Security applications that run analytics on their siloed data provide narrow constricted views and deliver conflicting risk scores. SIEM analytics may tie user "Jack Black" to anomalous events. Identity Governance analytics might rank his access as low risk. And, PAM analytics may label him as high risk. Which source are you going to believe? What is the true risk of this user? What, if any, action should be taken? Can you somehow create a unified risk score for "Jack Black" from all those siloed analytics capabilities that your individual security and identity applications offer? No, you can't. That's a lot of nuts to crack with a limited toolset.
What if you could crack all these security and identity data feed nuts with just one security analytics platform? What would it mean for your information security and identity teams to reduce the number of analytics products they have to learn, maintain and use over time? And, how much more streamlined would your investigations be if you had one unified risk score for each user and entity?
The Nutcracker
Legend says that a nutcracker represents power and strength and serves like a trusty watch dog guarding you from evil and danger. A fierce protector, the nutcracker bares its teeth to evil and serves as the traditional messenger of good luck and goodwill.
We like to think of Gurucul as the security analytics nutcracker. We are your first line of defense against a long list of cyber threats ranging from insider threats to data exfiltration, to fraud and others. More than that, we are a messenger of good. We strive to improve your cybersecurity posture while optimizing the time and resources your information security, fraud and identity teams spend on detecting cyber threats.
We deliver what no siloed analytics product can possibly provide: a single unified risk score for every user and entity in your environment. This risk-prioritized intelligence means you can focus on the highest risk users and entities, and only those. There is no time wasted digging through alerts or trying to concatenate and weigh risk scores across diverse platforms.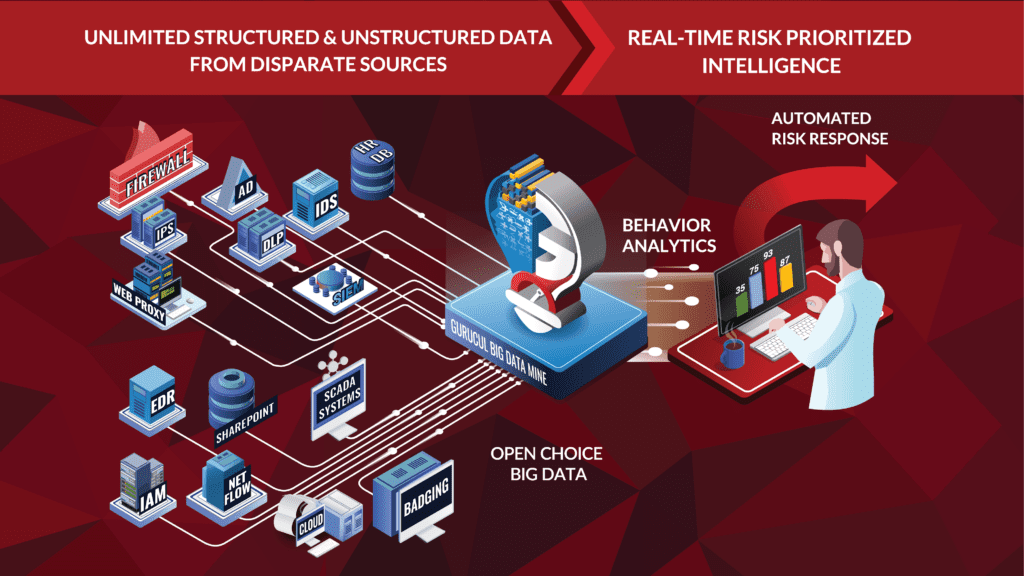 Our Machine Learning Algorithms Crack All the Nuts
Gurucul Risk Analytics (GRA) leverages over 1300 Machine Learning Models powered by data science to produce actionable risk intelligence. GRA is the only security analytics platform that can ingest all data sources out-of-the-box. It can ingest any data from any source, including proprietary business applications, to give you the most accurate 360-degree view of a user's or entity's behavior. In addition, GRA runs on your choice big data platform: Hadoop, Hortonworks, Cloudera, Amazon EMR and more.
Gurucul Risk Analytics leverages a comprehensive risk engine which performs continuous risk scoring based on historical and current behavior. GRA provides real-time risk prioritized alerts for incident analysis across applications, platforms, NetFlow, threat intelligence, and other security solutions. GRA uses this contextual information for machine learning, behavior analytics and deep learning to generate risk scores. The contextual risk scores can be applied to orchestrate automated risk-response workflow for enterprise and cloud.
Your data is certainly a nut worth cracking! Contact us today to get started. The rewards are yummy…
---
Gurucul Reports Record Growth In 2018
Company Increased Revenues More than 200% and SaaS Adoption by 600% for Behavior based Security and Fraud Analytics

Gurucul, a leader in behavior based security and fraud analytics technology, announced it achieved record business results in 2018 including a more than 200% increase in revenues fueled by accelerating demand for its Gurucul Risk Analytics (GRA) platform (including the UEBA, Identity Analytics, Cloud Analytics products) and Gurucul Fraud Analytics.
Gurucul also experienced 600% growth for its Security and Fraud Analytics as a service offering, signed marquee customers in the financial, insurance and healthcare sectors, made several key management hires and expanded its global footprint through several strategic business partnerships.

---
Gurucul Extends Behavior Based Security Analytics to Entire IT Stack Enabling Real-time Automation of AI/ML Driven Security Controls
New Version of Gurucul Risk Analytics Provides Real-Time Anomaly and Risk Detection across Network, Mobile, IoT, Medical Devices and More
Gurucul announced a new version of its Gurucul Risk Analytics (GRA) platform, which extends behavior based security analytics with pre-built machine learning models that span the entire IT stack. GRA version 7.0 unifies siloed analytics to provide real-time anomaly and risk detection across enterprise and cloud platforms/applications, networks, mobile endpoints, IoT devices, medical devices, business applications and more. Gurucul goes beyond SIEM's capabilities, including the ability to automate security controls such as risk and behavior based step-up authentication and preventative DLP enforcement in high risk situations.
Gurucul will demonstrate the new GRA platform at RSA Conference 2019 Booth #2027 in the South Expo Hall from March 4-7.

---
What's New On Our Blog
| | |
| --- | --- |
| | Join Gurucul at RSA Conference 2019 in San Francisco. The annual RSA Conference is taking place March 4-8 in San Francisco. This security conference is regarded as the world's leading forum for enterprise and technical information security professionals. We hope you will join us in Booth #2027 in the South Expo Hall to learn how Gurucul is leading the security evolution! Read More. |
| | What is Machine Learning?  This big data discipline of artificial intelligence gives systems the freedom to automatically gain information and improve from experience without manual programming. Machine learning is literally just that – "letting the machine learn". Read More. |
| | ABCS of UEBA: C is for Context.  The single most critical factor in differentiating anomalous behavior from risky behavior is context. A man runs through the airport. Is he trying to catch a flight or fleeing from authorities? Context is key to understanding behavior. And, behavior is key to predicting risk. Read More. |
| | ABCS of UEBA: B is for Behavior. We like to say, "You can steal an identity, but you can't steal behavior." You might compromise my credentials, but you don't know what time I normally login, the applications I typically use, the people I regularly email, etc. The key to predicting threats, especially unknown threats, is to monitor user and entity behavior – to recognize when that behavior starts being anomalous. Read More. |
| | You're Paying Too Much for Your SIEM.  We talk to a lot of customers, prospects and industry analysts. A clear theme that comes out of our conversations is that SIEM costs are out of control. SIEM implementations are so expensive and difficult to swap out. Here's the deal: the value is not in storing large volumes of data. The value is in insights derived from that data. Read More. |
---
Join Us
RSA Conference. March 4​-8​, 2019​. San Francisco, CA. It's better with Gurucul! We take security beyond SIEM to deliver predictive security analytics. Visit our booth, attend a presentation, see a demo of our products.
Oktane19. April 1​-4​, 2019​. San Francisco, CA. Join us at the annual Okta user's conference for a glimpse at our Okta integration.
FS-ISAC Annual Summit. April 28​-May 1​, 2019​. Orlando, FL. As a gold sponsor, Gurucul will be presenting this year, "Closing the User Intelligence Gap Combining Identity with User Activity." See you there!
Health-ISAC 2019 Spring Summit. May 13​-17​, 2019​. Ponte Vedra Beach, FL. Gurucul will have a panel of healthcare customers presenting at this year's Summit on "Behavior Based Security Analytics Best Practices". Join us!