Downloads of Borderless Behavior Analytics – Who's Inside? What're They Doing? are Just $0.99 For a Limited Time
LOS ANGELES, Calif. – Mar. 1, 2017 – Gurucul, a leader in user and entity behavior analytics (UEBA) and identity analytics (IdA) for on-premises and the cloud from the context of big data with machine learning, today announced that Borderless Behavior Analytics – Who's Inside? What're They Doing? by CEO Saryu Nayyar is now available for Kindle.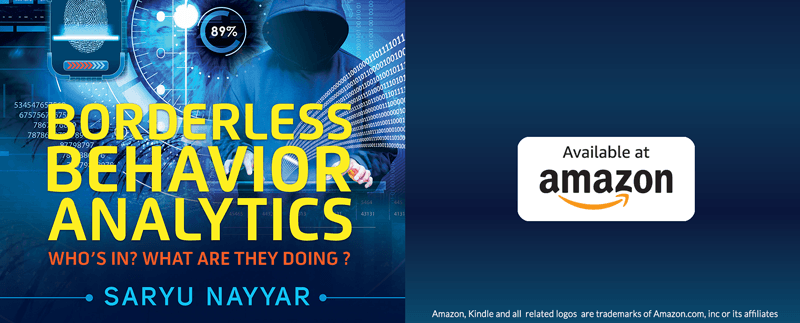 According to Jim Routh, CSO of Aetna, this book "is a collection of thought-provoking content from industry luminaries presenting practical guidance based on expertise essential to the impact of models on security risk-based maturity, for enterprises large and small, moving at customer speed."
WHO: Borderless Behavior Analytics features chapters by Gary Eppinger, CISO of Carnival Corporation; Jerry Archer, CSO of a Major Financial Services Company; Joe Sullivan, CSO of Uber; Teri Takai, former CIO of the Department of Defense (DoD); Robert Rodriguez, chairman, founder of Security Innovation Network (SINET); Leslie K. Lambert, former CISO of Juniper Networks and Sun Microsystems; Gary Harbison, CISO of Monsanto.
WHAT: Borderless Behavior Analytics is a compilation of articles by these top CISOs and CSOs on how identity has become the fulcrum for most of today's more serious attacks and data theft. The book captures shared experiences and best practices, while exploring the growing importance and lack of awareness of identity as an access risk and threat plane, also known as the CIO and CISO divide.
WHERE: Borderless Behavior Analytics for Kindle can be downloaded at amazon.com
The free Kindle App is available at: amazon.com
WHEN: Borderless Behavior Analytics is available immediately for $0.99 until March 3rd. The cost beginning March 4th will be $8.95.
HOW: Visit Amazon to download Borderless Behavior Analytics for the Kindle App.
The editorial team has already started working with new contributors and an early preview of their articles is included in the first edition of the book. Jairo Orea, Chief Information Security Architect for a Fortune 10 company, weighs in on hybrid environment architecture and the role of data brokers, cloud brokers and identity brokers. Devin Bhatt, CISO and Chief Privacy Officer for the U.S. Federal Government, provides a focused perspective on insider threats as a new chapter in the second edition. Those individuals interested in future editions, supporting blogs and comments about the book should visit Borderless Behavior Analytics..
About Gurucul
Gurucul is changing the way enterprises protect themselves against insider threats, account compromise and data exfiltration on-premises and in the cloud. The company's user behavior analytics and identity access intelligence technology use machine learning anomaly detection and predictive risk-scoring algorithms to reduce the attack surface for accounts, unnecessary access rights and privileges, and to identify, predict and prevent breaches. Gurucul technology is used globally by organizations to detect insider threats, cyber fraud, IP theft, external attacks and more. The company is based in Los Angeles.