Saryu Nayyar Selected to Elite Program for Creating Market Leading Cybersecurity Analytics Company
LOS ANGELES, Calif. – Oct 30, 2017 – Gurucul,  a leader in Predictive Security Analytics and Intelligence for on-premises and the cloud, today announced that Saryu Nayyar, the company's Founder and CEO, was selected to the elite group of 13 entrepreneurs in this year's EY Entrepreneurial Winning Women™ North America class.
The EY program is a national competition that identifies a select group of women entrepreneurs whose businesses show real potential to scale, and provides the connections and resources to help them achieve their goals. Winners were selected by a panel of independent judges representing successful entrepreneurs, investors  and business leaders. According to the EY program director, this year's diverse class includes some of the most promising business leaders of today. EY cites a US Department of Commerce study that found those selected to be among the top 2 percent of all women-led businesses in terms of company revenue.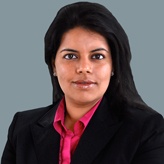 "I am extremely honored to be a part of this year's EY Entrepreneurial Winning Women™ North America class. EY has a well-deserved reputation for recognizing entrepreneurs with a strong business acumen, that are spearheading market leading companies," said Saryu Nayyar, CEO of Gurucul. "My vision in founding Gurucul was to push the boundaries of machine learning and analytics to solve today's greatest cyber security challenges. Today, our technology is used by Global 1000 companies and government agencies to fight cyber threats and insider risks. We will continue to disrupt the market with our innovations and enable secure digital transformation for organizations. To be recognized for my achievements by EY is very gratifying. I look forward to working with EY and my peers to take Gurucul to the next level."
Gurucul is changing the way enterprises protect themselves against cyber fraud, insider threats, account compromise, data exfiltration and external attacks. The company's advanced security analytics technology uses machine learning, anomaly detection and predictive risk-scoring algorithms to identify, predict and prevent breaches in real-time. Gurucul Risk Analytics (GRA) ingests and analyzes huge volumes of data generated when users and devices access and interact with business applications, whether they are in the company's own data center or hosted in the cloud. The platform monitors user and entity behaviors using machine learning algorithms to detect threats that appear as "normal" activity to traditional security products, such as hackers using login credentials stolen from authorized users, as well as malicious insiders like employees and contractors.
Saryu and the other 12 EY Entrepreneurial Winning Women of 2017 will be recognized at EY Strategic Growth Forum®, an invitation-only gathering of more than 2,000 executives representing high-growth companies in Palm Springs, California.
"This year marks a decade for EY endorsing and supporting women founders who are creating and leading some of the world's most promising companies," said Lisa Schiffman, Director, Brand, Marketing and Communications, Americas Growth Markets, Ernst & Young LLP and program founder. "We understand that today's entrepreneurs have a tough road ahead of them, but with the right sponsors and growth networks, they learn to think bigger, establish advisory boards, secure the right investors and build effective leadership teams necessary to scale."
About Saryu Nayyar
Saryu Nayyar is an internationally recognized cyber security expert, author, entrepreneur and speaker. She has more than 15 years of experience in the information security, identity and access management, and security risk management sectors. Prior to founding Gurucul, Saryu was a founding member of Vaau, an enterprise identity and access governance start-up acquired by Sun Microsystems. She has held leadership roles in security products strategy at Oracle and Sun Microsystems. Saryu also spent several years in senior positions at the technology security and risk management practice of Ernst & Young. She is passionate about building disruptive technologies and has several patents pending for behavior analytics, anomaly detection and dynamic risk scoring inventions. Saryu recently authored a best-selling cyber security book on identity, big data and machine learning called Borderless Behavior Analytics.
About EY's Growth Markets practice
EY's Growth Markets (GM) guide leading high-growth companies. Our multidisciplinary teams of elite professionals provide perspective and advice to help our clients accelerate the path to market leadership. SGM delivers assurance, tax, transactions and advisory services to thousands of companies spanning all industries. EY firms are the undisputed leaders in taking companies public, advising key government agencies on the issues impacting high-growth companies and convening the experts who shape the business climate. For more information, follow news on Twitter @EY_Growth.
About EY
EY is a global leader in assurance, tax, transaction and advisory services. The insights and quality services we deliver help build trust and confidence in the capital markets and in economies the world over. We develop outstanding leaders who team to deliver on our promises to all of our stakeholders. In so doing, we play a critical role in building a better working world for our people, for our clients and for our communities.  EY refers to the global organization and may refer to one or more of the member firms of Ernst & Young Global Limited, each of which is a separate legal entity. Ernst & Young Global Limited, a UK company limited by guarantee, does not provide services to clients. For more information about our organization, please visit ey.com.
About Gurucul
Gurucul is a global cyber security company that is changing the way organizations protect their most valuable assets, data and information from insider and external threats both on-premises and in the cloud.  Gurucul's real-time security analytics and intelligence technology combines machine learning behavior profiling with predictive risk-scoring algorithms to predict, prevent and detect breaches.  Gurucul technology is used by Global 1000 companies and government agencies to fight cyber fraud, IP theft and account compromise. The company is based in Los Angeles.  To learn more, visit www.gurucul.com and follow us on LinkedIn and Twitter.