Provider of Unified Security and Risk Analytics Platform Selected for its Innovation, Relevance and Market Adoption
LOS ANGELES – January 7, 2021 – Gurucul, a leader in Unified Security and Risk Analytics technology for on-premises and the cloud, today announced it has been named Security Automation Product of the Year in the 2020 Computing Security Excellence Awards, which celebrate the achievements of the IT industry's leading security companies, solutions, products and personalities. The company also recently received the Platinum Award as Best Cyber Security Risk Management solution in the American Security Today 'ASTORS' Homeland Security Awards program.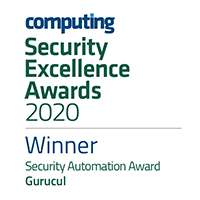 According to Computing, automation brings many benefits to IT teams, massively reducing their workload and enabling them to focus on complex tasks, rather than constantly fighting fires. This award is for the most compelling and innovative security solution using artificial intelligence, machine learning or other types of automation.
"Automation can bring great benefits to security teams from reducing alert fatigue to tracking and responding to threats," said Computing Editor John Leonard. "Gurucul has a comprehensive solution with a broad basis of analysis and coverage, and the use of machine learning is a very sensible approach to lifting the burden from human analysts."
"Being named Security Automation Product of the Year by Computing is a great honor," said Saryu Nayyar CEO of Gurucul. "The Gurucul GRA platform's combination of advanced security analytics and machine learning enables customers to identify hard to detect threats including account compromise and insider attacks before it's too late."
About Gurucul
Gurucul is a global cyber security and fraud analytics company that is changing the way organizations protect their most valuable assets, data and information from insider and external threats both on-premises and in the cloud. Gurucul's real-time Unified Security and Risk Analytics Platform combines machine learning behavior profiling with predictive risk-scoring algorithms to predict, prevent and detect breaches. Gurucul technology is used by Global 1000 companies and government agencies to fight cyber fraud, IP theft, insider threat and account compromise as well as for log aggregation, compliance and risk based security orchestration and automation for real-time extended detection and response. The company is based in Los Angeles. To learn more, visit https://gurucul.com/ and follow us on LinkedIn and Twitter.