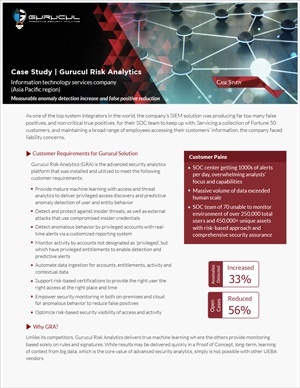 Gurucul Customer Case Study – Information Technology Services Company
As one of the top system integrators in the world, the company's SIEM solution was producing far too many false positives, and non-critical true positives, for their SOC team to keep up with. Servicing a collection of Fortune 50 customers, and maintaining a broad range of employees accessing their customers' information, the company faced liability concerns.
Download this case study to learn how this company was able to increase anomaly detection and decrease false positives significantly.
Please fill out the form below to receive this case study. The case study will be sent to the email address you provide.