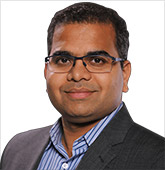 Nilesh Dherange
Chief Technology Officer, Gurucul
Nilesh Dherange is responsible for development and execution of Gurucul's technology vision. Nilesh brings a wealth of experience in inventing, designing, and building software from inception to release. Nilesh has been a technologist and leader at three startups and at one of the largest software development companies in the world. Prior to founding Gurucul, Nilesh was an integral member of a company that built a Roles and Compliance product acquired by Sun Microsystems.
Jeff Pollard
VP and Principal Analyst Serving Security & Risk Professional, Forrester
Jeff primarily contributes to Forrester's offerings for security and risk professionals. He leads Forrester's research on the role of the CISO, specializing in topics related to security strategy, budgets, metrics, business cases, and presenting to the board. His research also includes security services, featuring global coverage of managed security services, professional security services, and security-as-a-service. Jeff also takes an active role in Forrester's forward-looking research on security innovation, the security market, and security predictions.