Unified Security Analytics Platform Powering the Full Suite of Gurucul Cybersecurity Products
.
BUSINESS CHALLENGE
Enterprise security teams on average are having to sift through over 11,000 security events daily, while only being able to respond to somewhere in the range of 10 to 15. That is after chasing hundreds if not thousands of false positives. To say they feel overwhelmed is an understatement. While more data sources are helpful, they also bring a lot more noise and more false positives. Endpoint security solutions help narrow down investigations but do nothing to help with that volume.
What security analysts need are better security analytics within SOC solutions to automatically shrink down that noise and eliminate false positives. This means there are less events to investigate and the response rate goes up significantly to prevent a breach.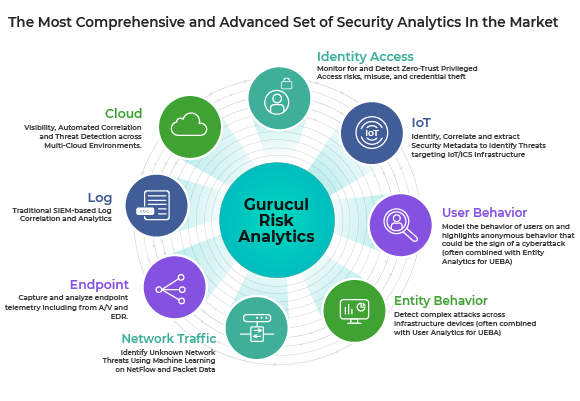 Gurucul Risk Analytics (GRA) is a Unified Security and Risk Analytics platform on open choice of big data. GRA leverages over 2500 Machine Learning Models powered by data science to produce actionable risk intelligence. It gathers multiple data sources, including both on-premises and cloud endpoint, log, user, access, entity/asset, network, and other data. It uses that context to narrow down and prioritize which alerts are truly relevant to an attack campaign with a high-confidence level.
Gurucul STUDIOTM
Largest library of prepackaged transparent machine learning models and the ability to build your own
Enterprise Risk Engine
Drive risk-based security controls and define risk your way
Alerting & Case Management
Comprehensive case management capabilities and alerting techniques
Dashboards & Reporting
Widget driven configurable dashboards and reporting for security operations, audit & compliance
Gurucul MinerTM
Natural language contextual search for investigations
Risk-Response Workflow
Response workflows for automated risk remediation
.
KEY BENEFITS
Leverage multiple out-of-the-box analytics and machine learning models to monitor for and identify known, unknown, new, and emerging threats and variants without relying on vendor updates.

Automate the correlation, identification, and prioritization of threat activity and streamline responses.

Model good behavior to expose unknown bad behavior through peer groups, clustering, and outliers.

Analyze access and its abuse with identity-centric behavior analytics from big data.

Modify our analytics or build your own with Gurucul STUDIOTM.

Obtain enough context and high-fidelity detection confirmation to execute a response for eradicating threats fully prior to data loss or encryption of data.

Leverage predictive security analytics to risk-score incidents and drive 'find-fix' focus.
.
WHY GURUCUL RISK ANALYTICS?
The Gurucul Risk Analytics platform powers the full suite of Gurucul cybersecurity products: Next-Gen SIEM, UEBA, Open XDR, Identity & Analytics, SOAR, Fraud Analytics, and Network Traffic Analysis (NTA). This gives analysts a single unified interface for end-to-end security operations: configuration and data ingestion, real-time threat detection and response, incident investigation, case management, and compliance reporting.

Native support for monitoring infrastructure, apps, IoT, cloud services and SaaS applications

Largest, most comprehensive security content library OOTB

Most comprehensive and advanced set of security analytics in the market

Blazing fast contextual investigations with advanced data enrichment

Guaranteed lower cost including predictable no infrastructure pricing

Cloud-Native / Hybrid / Easy On-prem Deployments