Fraud Analytics
Monitor Cross-Channel Transactions and Identify Risky Events in Real-Time
Predict, Detect and Prevent Fraud
Cyber fraud costs organizations billions of dollars each year. Online adversaries are on the rise, as enterprise struggle to analyze ever-growing mountains of data, exceeding human capacity to handle.
Gurucul Fraud Analytics provides a holistic risk-based approach for fraud detection of both internal and external users, using award-winning machine learning algorithms and an open big data architecture. Its data science architecture creates a unique risk score for each internal user, customer or provider entity, using context-driven sensors from public and private data and transactions. It ingests both structured and unstructured data and aggregates risk context for intelligent predictive fraud detection.
Gurucul Fraud Analytics can link data from a multitude of sources to provide a contextual view, and highlight anomalous transactions, based on historic user and community profiles. It analyzes online and offline activity: public records, contact center interactions, point of sale transactions and ATM transactions. Gurucul Fraud Analytics mines and normalizes data, and then creates a risk score for fraud and abuse. It's used for real-time decision making or batch scoring of an event. It can also provide scores and risk factors for other systems to use in a decision.
Gurucul Fraud Analytics Pre-packaged Industry Solutions
"Gurucul Fraud Analytics has functionality in all areas of FRIP… Fraud Analytics' device intel capabilities are extensive, including device health assessments, malware detection via behavioral analysis, device fingerprinting, and IMEI/SIM data from MNOs… Moreover, its implementation of multiple ML algorithms and hundreds of trained models gives it a distinct advantage."
– KuppingerCole Leadership Compass – Fraud Reduction Intelligence Platforms (FRIP)
Gurucul Fraud Analytics Core Capabilities
Fraud Prevention and Detection
Provides user and entity centric (PoS, end point devices, servers, etc.) behavior analytics using 2000+ machine learning models, pre-packaged and tuned to predict and detect industry specific fraud use cases. Allows customization of existing models or build your own fraud models using templates.
Real-time Alerting & Risk Scoring
Provides real-time predictive analytics to detect risky abnormal behavior and send alerts via multiple delivery mechanisms. Leverages a comprehensive risk engine which performs continuous risk scoring based on historical and current behavior. The dynamic risk score can be leveraged by applications to enforce policies and make real-time business decisions.
Investigation and Case Management
Offers comprehensive case management, out-of-the- box customizable dashboards and simple natural language based contextual search capability, providing a single pane of glass for end to end investigations. Allows the ability to provide feedback to the machine learning models based on the investigation findings.
Integration with External Applications
Comes with out-of-the-box integrations with most applications including ticketing or case management, point of sale video integration, telephony systems and more. These API based connectors provide automation and operational efficiency for the security team.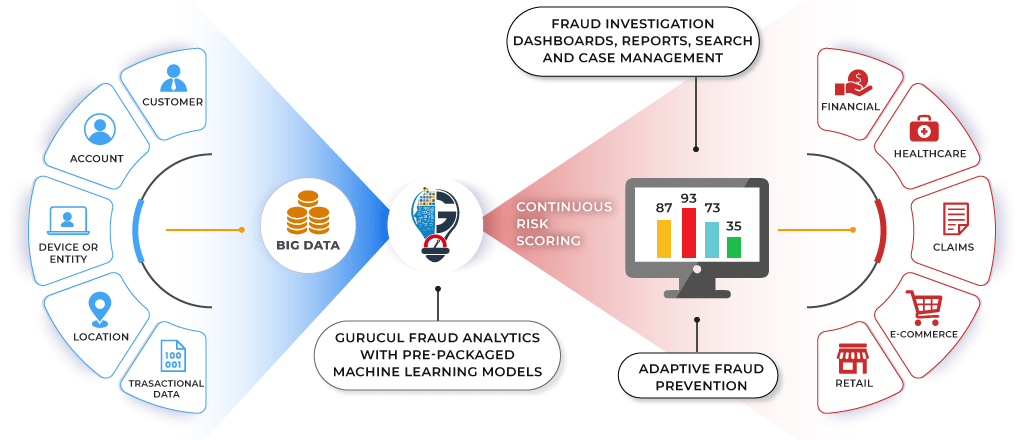 Know Your Customer (KYC) Violations
Gurucul Fraud Analytics detects account hijacking and fraud abuse in optimal timeframes. It addresses discrepancies and discovers odd behaviors around customer records, such as customer records being updated or changed when they shouldn't be.
Imagine a bank customer changed their address. The bank distributes a new debit card and sends it to the new address. Then, the address changes back to the original address – only after the issuing of the new debit card. Gurucul  identities that behavior as anomalous and that customer service representative as risky.
Real-Time Transactional Surveillance
Gurucul Fraud Analytics uses real-time and near real-time ingestion for transactional surveillance and can identify potential fraudulent transactions on the fly. It discovers suspicious patterns and odd combinations of transactions. Abuse cases include:
Merchants submitting false returns and fictitious transactions
Merchants performing payment reversals inappropriately
Other methods of cyber manipulation of financial transactions and credit card fraud – account takeovers, new account fraud, etc.
Anti-Money Laundering (AML)
Gurucul AML models identify patterns of placement, layering and integration. This would include abnormal prices and/or suspicious quantities of product or services being sold to a customer.
An example would be a situation where someone sets up an account, runs a few transactions through that account, and then shuts down the account. When they delete the account, there is no history of the transactions because the account is gone. Gurucul has the logs and can discover the anomalous behavior.
Gurucul Fraud Analytics tracks call center service representative behavior – shift times, inbound calls, outbound calls, interaction with the phone system and customer systems (i.e., CRM) to ensure customer records are being accessed based on need.
Prevent customer service representatives from accessing data of important customers for personal gain, i.e., "snooping" to obtain PII/PCI data with no business need. Expose representatives who change account properties for self or 3rd party benefit.
"Machine learning has become a critical component… and is a sought-after capability."
– Gartner Market Guide for Online Fraud Detection, 4/30/2019