Gurucul SaaS
Unified Security and Risk Analytics as a Service
Many organizations are rapidly shifting from traditional data centers to cloud based solutions. Gurucul SaaS scales and secures your cloud initiative providing a one stop shop view of your hybrid, cloud and enterprise security risk posture. Gurucul SaaS is a flexible platform that can be rapidly scaled to meet the needs of any size organization.
Cloud-Deployment Model
Cloud-based security analytics solution is hosted and managed 24 x 7 x 365 by Gurucul.
Hybrid Architecture
Capture information from cloud and on-premises enterprise applications and infrastructure.
Collect More Than Logs
Collect application and security logs, network flows, vulnerability data, access entitlements and business transactions.
Easy to Outsource First Level Monitoring
Gurucul Labs can configure and manage your environment plus do first level monitoring.
Multi-Tenancy
Ensure your data is segrated and secure.
Scale As You Go
Start small with a few resources and choose to add resources as you go.
Unified Security Analytics
• Intelligent Threat Hunting – Easily query contextual data using natural language searches
• Log Aggregator – Collect, link, store and manage large volumes of log data
• Network Traffic Analysis –Apply behavioral analytics to network traffic
• SIEM –Detect signatures of existing cyber threats and write your own rules
• SOAR –Automated workflows that mitigate identified threats
• UEBA –Gurucul User and Entity Behavior Analytics
UEBA
• Real Analytics – Industry's Largest Machine Learning Library
• Reduce False Positives – Dynamic peer groups improve clustering and outlier machine learning accuracy
• Model Driven Security –Drive actions using Gurucul's unified risk score
• Built For Scale –Store and access up to three years of data online
• Build Your Own –Gurucul StudioTM allows you to make our analytics your analytics
Identity Analytics
• Risk Based Certifications – Review risky access, not everything
• Dynamic Provisioning – Risk based workflow instead of one size fits all
• Privileged Access Intelligence – Discover users with privileged access
• Outlier Access – Identify unnecessary access and remove it automatically
• Intelligent Roles – Role comparison using Machine Learning and usage context
Fraud Analytics
• Fraud Prevention and Detection – for industry specific fraud scenarios
• Identify risky scenarios before they happen by combining Cyber context with traditional Fraud context
• Build your own or customize existing models with Gurucul StudioTM
• Integrate with existing fraud solutions (cloud or enterprise based)
• Risk based fraud prevention automation
Why Gurucul SaaS?
Powered by Gurucul Risk Analytics, Gurucul SaaS leverages over 2000+ machine learning models to find hidden insights, without explicit rules and policies typically found in SIEM and log aggregation platforms. In any machine learning model, the quality, quantity and depth of data impacts the accuracy and usefulness of the predictions. Gurucul can collect the data right from the source — cloud or enterprise — and will keep it on line for three years. Combining Gurucul Data Mine™ and the power of Gurucul Machine Learning will provide your organization with an unprecedented view of cyber risk and compliance reporting, and enable you to take action all from a cloud-based SaaS offering.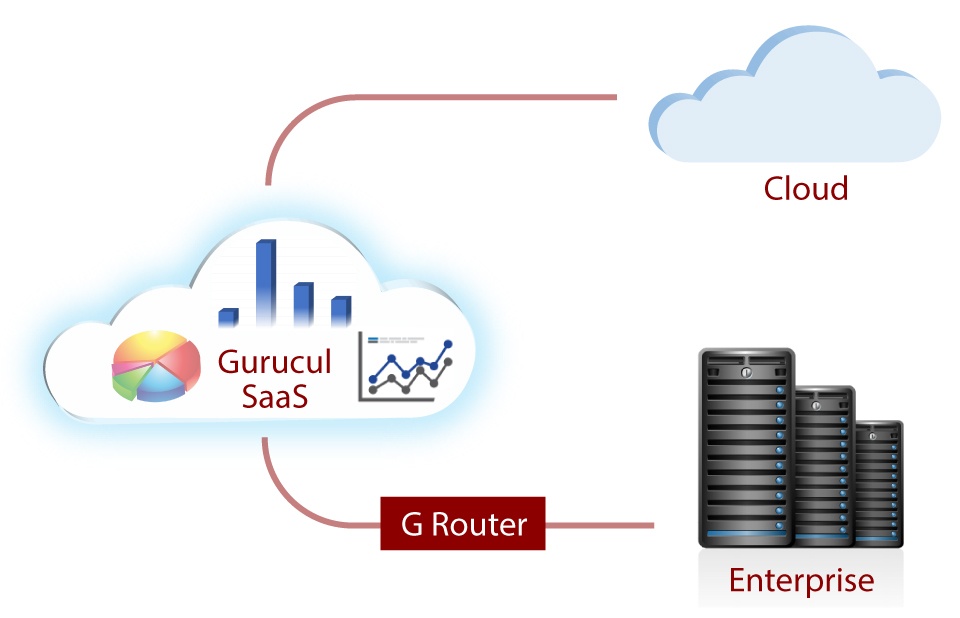 Quick Time to Value: the software is installed and ready to be configured to your needs. No waiting on the data center for hardware or VM's.
Effortless Maintenance: Gurucul provides upgrades and patches. Costs and effort associated with upgrades and new releases are lower than the traditional model.
Flexible Configuration: Gurucul SaaS is scalable and has out-of-the-box integrations with other SaaS offerings.
Pay As You Go: Subscription based software licensing. Only pay for what you need to monitor.
Work Anywhere: Users can access Gurucul SaaS from anywhere they are connected to in the internet.