Fast-moving business priorities, ever-changing distributed IT landscape (on-premises, cloud, mobile) and an increasingly dispersed workforce, reveal serious challenges with static rule-based identity and access management (IAM) solutions. Gurucul Identity Analytics (IdA) provides a risk-based approach for driving IAM processes using dynamic risk profiles derived by advanced machine learning analytics on big data.
Why Choose Gurucul Identity Analytics?
Using big data, Gurucul provides a holistic 360-degree view of identity, access, privileged access, usage in the cloud, mobile and on-premises, breaking down traditional IAM silos.
Risk-Based
Certifications
Reduces rubber-stamping by providing decision makers with risk, access usage and peer group analytics. This can be done seamlessly with your existing access attestation tool or using Gurucul Access Analytics' mobile enabled certifications.
Outlier Analysis
Workbench
Provides a user-friendly interface to analyze outlier access with Gurucul's award-winning machine learning algorithms. Gurucul STUDIO™ enables custom model development without coding and with minimal data science skills. Companies initially reduce access by over 40% and maintain these analytics as part of their ongoing governance process.
Risk-Based Adaptive
Authentication
Enables real-time risk-based access policy enforcement of multi-factor authentication for internal users and customer identity and access management (CIAM) using risk scores backed by machine learning and behavior analytics on big data platform. Successfully deployed by Fortune 50 company for their 8 million consumers.
Enables automated workflow approvals with dynamically generated risk scores by analyzing peer groups, entitlement combinations and application classification in real-time using Gurucul's award winning machine learning algorithms. Customers reported a 65% reduction in on-boarding time using Gurucul's risk-based dynamic provisioning.
Privileged Access
Intelligence
Discovers, risk ranks and monitors accounts with privileged access.  Identify outlier access and anomalous behavior with Gurucul machine learning. Backdoor access and its misuse will be a thing of the past.
Provides role mining, role consolidation, and role comparison using machine learning algorithms and usage data context. Avoid garbage-in-garbage-out of over-provisioned rubber-stamped access entitlements. Business user, application and attribute role-based access control (RBAC). 58% reduction in business time to review new roles and sign off.
Offers a contextual IAM search using big data to mine linked users, accounts, entitlements,
structured and unstructured data, along with risk score and peer group analytics, which include the capability of saving and exporting results for reporting.
Delivers 100+ identity analytics reports available out of the box, with the capability to customize, schedule and automate reports.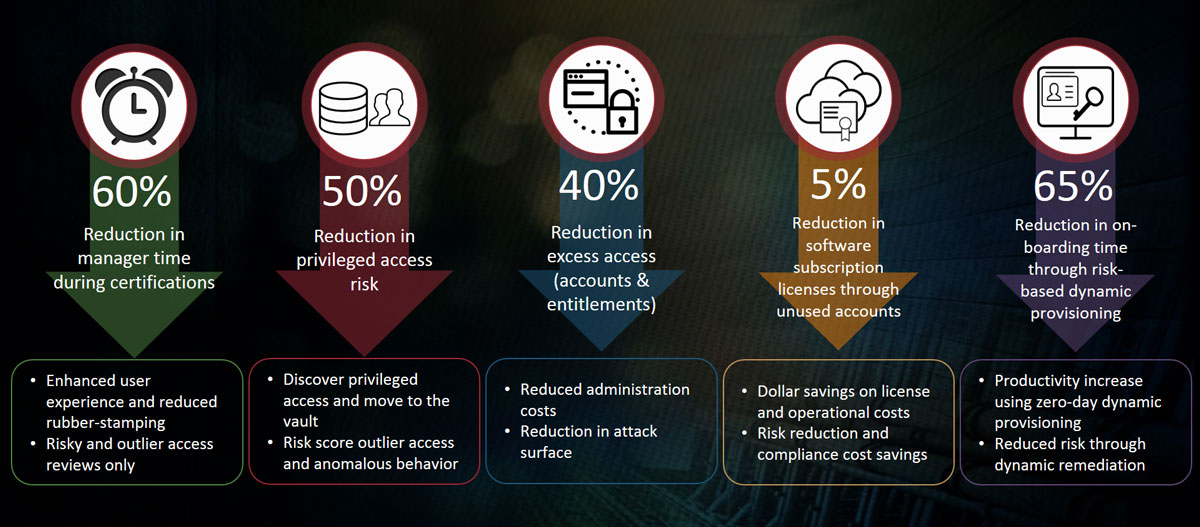 "Gurucul's Identity Analytics solution filled the gap in our legacy IAM systems, allowing us to stay in pace with the constant and evolving security challenges of our industry while, being secure and in compliance at the same time."
– CSO, Healthcare Insurance Company