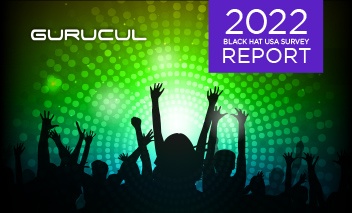 2022 Black Hat USA Survey Report
SOC Success: What I Need to be a SOC Rock Star
Gurucul conducted a survey of attendees at the 2022 Black Hat USA security conference focused on the Security Operations Center (SOC). We asked security professionals who worked in the SOC about what they needed to be successful, the technologies and attacks they're most focused on, and their plans for the SOC in the next year.
Highlights:
Insider Threats are the most difficult to detect – Out of the seven types of threats covered by the survey, 27% of respondents – the highest percentage across types – identified insider threats as the most difficult to detect.
Behavioral Analytics technology is a top priority for security professionals – This was the most common technology respondents said was missing from their SOC and the most common one they planned to invest budget in over the next year.
82% of security professionals feel their SOC program is improving – Nearly all respondents felt their SOC program was improving or staying the same and less than 5% said their SOC is actively getting worse. These are encouraging statistics and suggest that organizations understand the importance of the SOC and are investing in it.
There's an ongoing need for support in the SOC including training, experienced talent, pay and vacation time – Security professionals were split on whether their organization offered enough SOC training, and almost a third wanted to invest in more Tier 3 SOC Analysts/Threat Hunters. Survey results also found a desire for better vacation and compensation in the SOC. Approximately 35% of respondents needed more than two weeks of vacation time to feel refreshed, and about three-quarters wanted at least a 10% raise.
Download the full report to learn more.
Please fill out the form below. The report will be sent to the email address you provide.