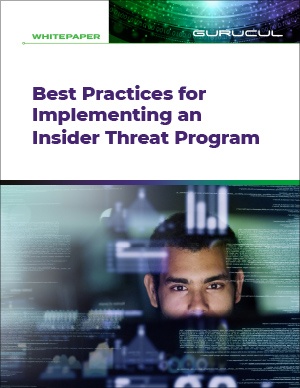 Whitepaper: Best Practices for Implementing an Insider Threat Program

Insider threats are a serious concern, and they are on the rise.  Detecting them and mitigating the risk requires a specialized technology platform and a set of best practices that differ from the usual approach of detecting external threats.
Over the years, Gurucul has worked with many companies globally of all sizes, and in different verticals, to help them implement successful insider threat programs.  Read this whitepaper for details on our best practice recommendations based on that experience.  With our proven strategies and tactics, organizations can get to the point where they are able to remediate insider threats in real-time or at least before data is exfiltrated.
Please fill out the form below to receive this whitepaper. The whitepaper will be sent to the email address you provide.