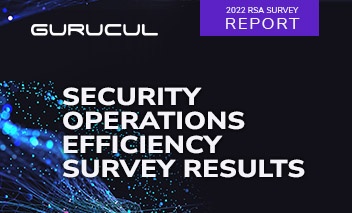 GURUCUL RESEARCH REPORT
2022 Security Operations Efficiency Survey

Gurucul polled cybersecurity professionals during the 2022 RSA Conference about their organizations' security operations.
Key findings include:
Over 70% of businesses feel they have wasted 25-100% of their cybersecurity budget on failing to remediate threats – Although 43% of businesses see their biggest challenge in detecting and remediating threats is an over-abundance of tools.
Only 25% of organizations consider their biggest threat to be from inside the business, despite 98% being vulnerable – Insider threats increased by 47% over the past two years, but only a quarter of businesses consider their biggest threat emanating from inside their organization.
12% of businesses still don't automate their threat detection and remediation, leaving them vulnerable to threats such as ransomware – Almost 10% of businesses feel they lack effective cybersecurity remediation tools.
Download the full report to learn more.
If you're looking for an efficient security operations platform, look no further! The Gurucul Security Analytics and Operations Platform can help you detect and stop internal and external attacks before data exfiltration.
The Gurucul Platform provides the industry's most automated and highly-accurate real-time data collection, full attack campaign detection, prioritized investigation and risk-driven response capabilities needed by today's enterprises and managed service providers.
Please fill out the form below. The report will be sent to the email address you provide.