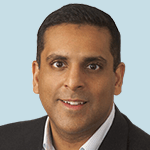 Sanjay Raja
VP Product Marketing and Solutions
Sanjay brings over 20 years of experience in building, marketing and selling cyber security and networking solutions to enterprises, medium-to-small business, and managed service providers. Previously, Sanjay was VP of Marketing at Prevailion, a cyber intelligence startup. Sanjay has also several successful leadership roles in Marketing, Product Strategy, Alliances and Engineering at Digital Defense (acquired by Help Systems), Lumeta (acquired by Firemon), RSA (Netwitness), Cisco Systems, HP Enterprise Security, Crossbeam Systems, Arbor Networks, Top Layer Networks, Caw Networks (acquired by Spirent Communications), Nexsi Systems, 3Com, and Cabletron Systems. Sanjay holds a B.S.EE and an MBA from Worcester Polytechnic Institute. Sanjay is also a CISSP as well as Pragmatic Marketing certified.
Other webinars of this speaker:
Gurucul is a global cyber security and fraud analytics company that is changing the way organizations protect their most valuable assets, data and information from insider and external threats both on-premises and in the cloud. Gurucul's real-time Unified Security and Risk Analytics Platform combines machine learning behavior profiling with predictive risk-scoring algorithms to predict, prevent and detect breaches. Gurucul technology is used by Global 1000 companies and government agencies to fight cyber fraud, IP theft, insider threat and account compromise as well as for log aggregation, compliance and risk based security orchestration and automation.