Winners of Prestigious Black Unicorn Award Revealed During Black Hat USA 2021
LOS ANGELES – August 2, 2021 – Gurucul, the cybersecurity industry's leading provider of Next-Gen SIEM, UEBA, XDR, and Identity Analytics technology today announced that CEO Saryu Nayyar has been named a Winner of the Top 10 Women in Cybersecurity for 2021 at the Black Unicorn Awards for 2021 which take place each year during the Black Hat USA conference.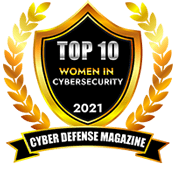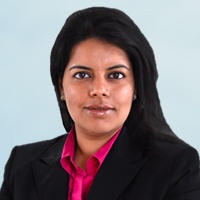 Gurucul CEO and Co-Founder Saryu Nayyar competed against many of the industry's leading Women in Cybersecurity for this prestigious award. Ms. Nayyar blazed a new trail for the security industry based on her vision that identity is the new security perimeter and applying data science to behavior patterns is the most reliable way to detect and protect against sophisticated threats like insider attacks and account takeovers.
"This is truly an honor to be recognized alongside my peers as a Top 10 Woman in Cybersecurity for my pioneering work in applying data science to automate real-time threat detection and response, and model-driven security," said Saryu Nayyar. "In a traditionally male dominated industry, it's refreshing to celebrate the accomplishments and contributions of our female cybersecurity leaders."
"We're pleased to name Saryu Nayyar of Gurucul as a Top 10 Women in Cybersecurity for 2021 among a small, elite group of female information security professionals in our third annual Black Unicorn awards," said Judges Robert R. Ackerman Jr. of www.allegiscyber.com, David DeWalt of www.nightdragon.com, Dr. Peter Stephenson of Cyber Defense Labs and Gary Miliefsky of www.cyberdefensemediagroup.com.
Saryu Nayyar's company, Gurucul, pioneered the cybersecurity category that analyst firm Gartner calls User and Entity Behavior Analytics (UEBA). Today, the Gurucul Unified Security and Risk Analytics platform encompasses Next-Gen SIEM, UEBA, SOAR, XDR, Identity Analytics, and Fraud Analytics. Gurucul was recently awarded Best Product in Insider Threat Prevention in the Global InfoSec Awards for 2021, a 2021 Cybersecurity Excellence Award Winner for the Gurucul Insider Threat Solution, and Gurucul UEBA won a 2021 Fortress Cyber Security Award for Most Advanced Analytics.
About Gurucul
Gurucul is a global cyber security company that is changing the way organizations protect their most valuable assets, data and information from insider and external threats both on-premises and in the cloud. Gurucul's real-time Unified Security and Risk Analytics Platform provides Analytics-Driven SIEM, UEBA, XDR, Risk-Driven SOAR, Identity Analytics, and Fraud Analytics. It combines machine learning behavior profiling with predictive risk-scoring algorithms to predict, prevent and detect breaches. Gurucul technology is used by Global 1000 companies and government agencies to fight cybercrimes, IP theft, insider threat and account compromise with high efficacy detections as well as for log aggregation, compliance and risk based security orchestration and automation for real-time extended detection and response. The company is based in Los Angeles. To learn more, visit https://gurucul.com/ and follow us on LinkedIn and Twitter.
About Cyber Defense Awards:
This is Cyber Defense Magazine's 9th year of honoring cybersecurity innovators, in this case the Black Unicorn Awards for 2021 on our Cyber Defense Awards platform. In this competition, judges for these prestigious awards includes cybersecurity industry veterans, trailblazers, and market makers Gary Miliefsky of CDMG, Dr. Peter Stephenson of CDMG, Robert R. Ackerman Jr. of Allegis Cyber and David DeWalt of NightDragon with much appreciation to emeritus judge Robert Herjavec of Herjavec Group. To see the complete list of finalists for the Black Unicorn Awards for 2021 please visit https://cyberdefenseawards.com/black-unicorn-awards-finalists-2021.
About Cyber Defense Magazine:
Cyber Defense Magazine was founded in 2012 by Gary S. Miliefsky, globally recognized cyber security thought leader, inventor and entrepreneur and continues to be the premier source of IT Security information. We are managed and published by and for ethical, honest, passionate information security professionals. Our mission is to share cutting-edge knowledge, real-world stories and awards on the best ideas, products and services in the information technology industry. We deliver electronic magazines every month online for free, and limited print editions exclusively for the RSA, BlackHat and IPEXPO conferences and our limited edition paid reprint subscribers. Learn more about us at http://www.cyberdefensemagazine.com. Cyber Defense Magazine is a proud member of the Cyber Defense Media Group (CDMG).
For Media Inquiries:
Jane Grafton, VP Marketing,
Gurucul
pr@gurucul.com
(213) 259-8472



External Link: Gurucul CEO Saryu Nayyar Named Winner of the Top 10 Women in Cybersecurity for 2021 by Cyber Defense Magazine