Gurucul Next-Gen SIEM recognized for dramatically reducing SOC operational expenses and improving threat detection efficiency through automation
Los Angeles, California – RSA Conference – April 24, 2023 – Gurucul, the leader in Next-Gen SIEM, UEBA, XDR and Identity & Access Analytics, today announced that Gurucul Next-Gen SIEM has won Cyber Defense Magazine's Global InfoSec Award for Cutting Edge Security Information and Event Management (SIEM) at this year's RSA Conference. Named a Visionary positioned furthest to the right in the 2022 Gartner® Magic Quadrant™ for SIEM, Gurucul has again been recognized for dramatically improving security operations center (SOC) efficiency, reducing threat detection time, decreasing manual effort through automation, and delivering the most comprehensive analytics for automated detection and targeted threat response.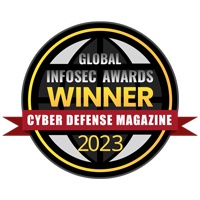 "Today, SOC teams are tasked with monitoring, detecting, and responding to challenging security threats," said Saryu Nayyar, CEO of Gurucul. "By leveraging the power of modern artificial intelligence, we can help modernize processes that typically overwhelm SOC teams with false positives or negatives, threat prioritization, and response. With more than 2,500 customizable models, Gurucul's AI is the most powerful on the SIEM market. Our solution enables security teams to ingest all data, regardless of the source, for maximum context, which allows the learning models and risk engines to provide the most accurate alerts. We're honored to be recognized for this innovation and named amongst an incredible lineup of winners for the Global Infosec Awards."
"Gurucul embodies three major features we judges look for to become winners: understanding tomorrow's threats, today, providing a cost-effective solution and innovating in unexpected ways that can help mitigate cyber risk and get one step ahead of the next breach," said Gary S. Miliefsky, Publisher of Cyber Defense Magazine.
Gurucul Next-Gen SIEM offers a cloud-native, unified, and modular platform for consolidating core SOC solutions into a single pane of glass aligned with the evolving needs of the modern enterprise threat landscape. It can quickly identify and address new, emerging, and unknown threats that evade rule-based ML solutions. This drastically reduces overall operational expenses while improving the efficiency of Threat Detection, Investigation, and Response (TDIR) programs. That includes supporting more data ingestion, heavy customization for new data sources, the reduction of threat detection time from weeks or months to minutes or hours, the automation of task and prioritization for remediation actions, and more.
Global InfoSec Award judges are CISSP, FMDHS, CEH, certified security professionals that voted based on their independent review of the company submitted materials. To see a complete list of Global InfoSec 2023 winners, click here – www.cyberdefenseawards.com
Visit Gurucul at this year's RSA Conference 2023, April 24-27, 2023, at booth #1355 in the South Hall. Read more about Gurucul in the 2022 Gartner Magic Quadrant for Security Information and Event Management 1 and the 2022 Gartner Critical Capabilities for SIEM 2 .
1 Source: Gartner, "Magic Quadrant for Security Information and Event Management," Pete Shoard, Andrew Davies, Mitchell Schneider, Published 10 October 2022
2 Source: Gartner, "Critical Capabilities for Security Information and Event Management," Mitchell Schneider, Andrew Davies, Pete Shoard, Published 22 November 2022.
Gartner and Magic Quadrant are registered trademarks and service marks of Gartner, Inc. and/or its affiliates in the U.S. and internationally and are used herein with permission. All rights reserved.
About Gurucul
Gurucul is a global cyber security company that is changing the way organizations protect their most valuable assets, data and information from insider and external threats both on-premises and in the cloud. Gurucul's real-time Cloud-Native Security Analytics and Operations Platform provides customers with a Next Generation SIEM, UEBA, Open XDR, and Identity & Access Analytics. It combines machine learning behavior profiling with predictive risk-scoring algorithms to predict, prevent, and detect breaches. Gurucul technology is used by Global 1000 companies and government agencies to fight cybercrimes, IP theft, insider threat and account compromise as well as for log aggregation, compliance and risk-based security orchestration and automation for real-time extended detection and response. The company is based in Los Angeles. To learn more, visit Gurucul and follow us on LinkedIn and Twitter.
About Cybersecurity Insiders
This is Cyber Defense Magazine's tenth year of honoring InfoSec innovators from around the Globe. Our submission requirements are for any startup, early stage, later stage, or public companies in the INFORMATION SECURITY (INFOSEC) space who believe they have a unique and compelling value proposition for their product or service. Learn more at www.cyberdefenseawards.com.
.